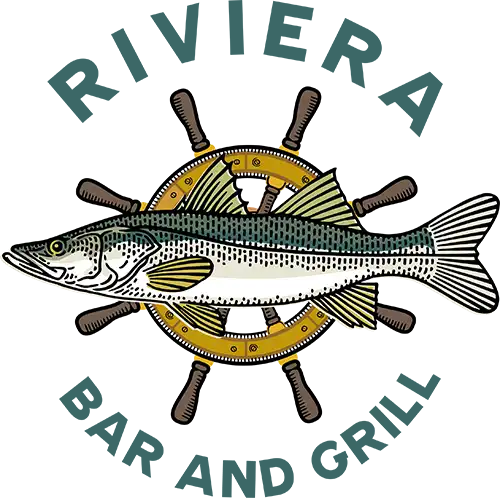 Riviera Bar and Grill Menu
Discover the ultimate waterfront dining hotspot in Punta Gorda – Riviera Bar and Grill. Set against the sparkling waters, our spot isn't just about food – it's about good vibes, sweet sounds, and great flavors that'll keep you coming back for more. Let the waves and live music set the scene for an awesome dining experience you'll want to repeat.
Soups & Starters
Fisherman's Chowder – Fresh Catch Gumbo – Chef's Soup
– Cup: $4.95
– Bowl: $6.50
Offshore Smoked Fish Dip: with Crackers Pita Bread: $10.95
Hog Wings w/ Teriyaki Garlic Glaze
– Small: $10.95
– Large: $17.95
Shrimp Cocktail: 5 Jumbo Shrimp Chilled, Housemade Cocktail: $13.95
Peel & Eat Shrimp
– 1/2 lb.: $10.95
– Full: $18.95
Fried Calamari: Served with Cherry Peppers and Spicy Marinara: $11.95
Maryland Crab Cake: w/ Remoulade Sauce: $15.95
Island Mussels: Garlic, Herbs, Wine & Cream, Bread: $16.95
Blackened Ahi Tuna: w/ Sweet Chili Drizzle & Pineapple Salsa: $14.95
Shrimp & Crab Parmesan Dip: w/ Corn Chips: $12.95
Salads
Punta Gorda: Baby Lettuces, Tomato, Red Onion, Cucumber, Citrus Dressing: $10.95
Riviera Caesar: Romaine Hearts, Caesar Dressing, Parmesan, Croutons: $10.95
Shrimp Avocado: Baby Lettuces, Cucumber, Tomato, Onion, Citrus Dressing: $15.95
Riviera Lagoon: Mixed Greens, Strawberries, Mandarin Oranges, Grapes, Carrots, Celery, Candied Walnuts, House Citrus Dressing: $12.95
ADD: Grilled Shrimp Skewer 5, Chicken 4, or Crabcake 9, or Lobster- Mkt
Baskets
Fried Shrimp Basket: w/ Cocktail Sauce: $15.95
Fried Chicken Fingers: Honey Mustard or Ranch: $12.95
Fried Mahi Mahi or Grouper: Make it a Basket or Sandwich: Mkt
Handhelds
Grilled or Fried Grouper Reuben: Thick Rye, Swiss Cheese, Tropical Slaw, 1000 Island: MKT
Grilled or Blackened Chicken Breast: Bacon, Cheddar, LTO, House Bun: $10.95
Harbor Lobster Roll: Shredded Lettuce on Toasted Brioche Bun: MKT
Build a Burger: 8 oz Beef Patty, Cheese, LTO on a House Bun: $11.95
Sea Dog: Fried Grouper Bites, LT House Sauce on Brioche Bun: $15.95
The Burnt Store: Beef Brisket, Kansas City BBQ, Fried Onions: $14.95
The PGI: Oven Roasted Turkey, Black Forest Ham, Swiss, LT, House Bun: $9.95
Punta Gorda Dog: ¼ LB All Beef Dog, add Bacon & Cheddar Cheese: $9.50
– Served with Pickle Spear & French Fries or Cole Slaw
Main Deck
Fresh Catch Taco: Blackened or Grilled, Pineapple Cilantro Slaw, Lime Crema: $16.95
Grilled Shrimp Skewers: w/ Grilled Pineapple Salsa: $19.95
Fresh Catch: Grilled or Blackened, Citrus Herb Butter Sauce: Mkt
Filet Mignon: 8oz Angus Beef, Crisp Onions, Roasted Fingerling Potato: $28.95
Grilled New York Strip: w/ Fingerling Potato & Seasonal Vegetables: $22.95
Maryland Style Crab Cakes: w/ Remoulade Sauce: $27.95
Admiral Joe's Combo: Blackened Mahi, Grilled Shrimp Skewer: $25.95
– Served with Yellow rice & Seasonal Vegetables
– ADD- Grilled Shrimp Skewer $5.00, Chicken $4.00, or Crabcake $9.00, or Lobster- Mkt
Kids Menu
– 4oz Angus Beef Burger: $6.00
– Mac N Cheese: $5.00
– Kids Chicken Fingers: $5.00
– Served with French Fries or Fruit Cup
– Quesadilla W/ Cheese: $5.00
Desserts
– Peanut Butter Cheesecake: $7.50
– Key Lime Pie
– Riviera Cheesecake
If you are wondering if we can accommodate your boat, the answer is yes!
Coordinates: 26.888362, -82.053196
5500 Deltona Dr Punta Gorda, FL 33950